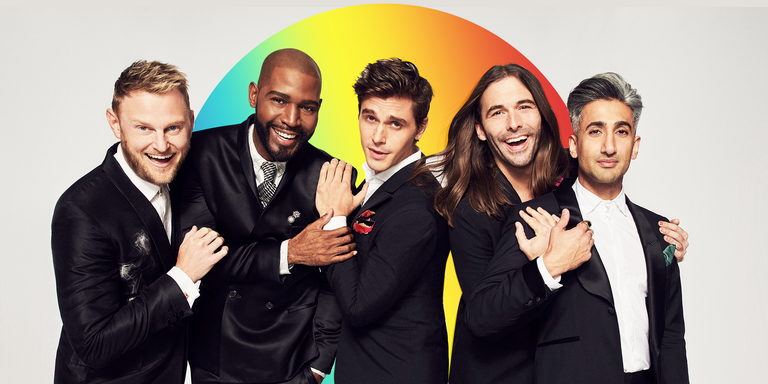 The Queer Eye for the Straight Guy reboot has a whole new cast and location and the second season just dropped (can we say "dropped" for TV shows??) on Netflix. The new Fab 5 are a diverse, fun team, and while the stories of their nominees vary from episode to episode, exploring friendships, cuisine, family, skincare, loss, hair, race, fashion, and more, the theme that weaves the show together is number one the Gay Agenda: Love.
The original Queer Eye was set in New York – a city known worldwide for its diversity. The world has changed since the original show began in 2003. The LGBTQ+ community has seen more acceptance, but also new setbacks, and the new series is relevant and fresh. The reboot is set in the southern US, based out of Atlanta, Georgia.  It takes us to small town USA, a very different experience.
Season 2 Episode 1: God Bless Gay
In the first episode of season 2, the fab five takes over the small town of Gay, Georgia to help a woman named Tammye complete a community center and welcome her gay son, Myles, back to church. While Tammye has come around to accepting her son, he is still paralyzed by fear of judgement from the rest of the church members.
Tammye emanates love to all those around her, yet we can see Myles still struggles to live. His room is a mess, a visual reflection of his feelings. With the support of five other queers, however, he is able to clean himself and his room up and bravely attend an event at the church by the end of the episode. They make the point that when you are struggling to find your own place, you must seek it out, because those communities won't magically find you. As an example they bring him to sing with the Atlanta LGBTQ+ choir, giving him the gift of spiritual music, which he had lost when he left the church after coming out.
This episode resonated with me for many reasons. Watching Myles's transformation touched me because most of us know how impossible it is to take care of yourself when you feel unwelcome by your community. Bobby (the designer of the show) refuses to go into the church at the beginning of the episode because he has been so hurt by church in the past. Growing up in a small religious town myself, I was bullied by Christian kids at my school and that experience turned me away from any kind of church for years. But watching this episode, hearing the gorgeous gospel music, and listening to Tammye's speech about acceptance at the end of the episode reminded me that we can all work to break down these constructed barriers and find beauty in each other's passions. Just as a small-town religious woman can learn to appreciate gay love, so can the fab five learn to appreciate the power and love in her church community.
The Future
Moving along into the season, episode 2 follows the love story of the cutest straight couple. Episode three gives a shy Mexican dad the makeover he needs to feel confident enough to play with the other dads from his kids' school. Every episode so far has give me a big AWWWW and I recommend this show for some light during dark times.
I am touched by the show's representation of our community and its constant reminders that no matter who we are we should be caring, beautiful, and lovely for ourselves as well as to each other. I am grateful for the increasing amount of queer and POC content appearing, and this show inspires me to create more! If you want to contribute by writing a blog to share with us, contact us – we are always supportive of new voices!